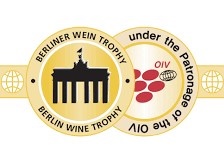 The Berliner Wine Trophy has become Germany's most influential wine competition and the world's largest international wine challenge under the patronage of the OIV and the UIOE.
The BWT brings well-known producers and distributors from around the globe together yearly, with an excess of 16,000 entries from 41 countries annually over the two tastings (Winter and Summer).
The Grand Gold is the equivalent of a Trophy, with only approx 50 wines selected each year to be Grand Gold quality making it a significant achievement.
GRAND GOLD MEDAL
The Everest Grenache 2018
GOLD MEDAL
The Everest Shiraz 2018
The Chateau Single Vineyard Bethanian Shiraz 2020
Grand Barossa Limited Reserve Year of the Rabbit Shiraz 2021
Grand Barossa Cabernet Sauvignon 2021
The Old Cooperage Grenache 2021
The Whole Dam Family GMSCC 2021